Dear friends,
Welcome to the 2012 Sonata 2.0 T. I like the Sonata 2.0T so much I am going to share it with you in this post. Although not a perfect car in every regard, for the money, it is the best value on the market. Style, trim, performance and technology all in a new class of "seriously this is how much"? So I bought a black on black 2.0T back in January. And I have never been more pleased with a car.
I liked it the first time I saw it. It is a good looking car. The designer of the 2012 Hyundai Sonata was the same guy who designed the Mercedes C Series. And yes, if you look at a Mercedes C Series it is pretty obvious the similarities.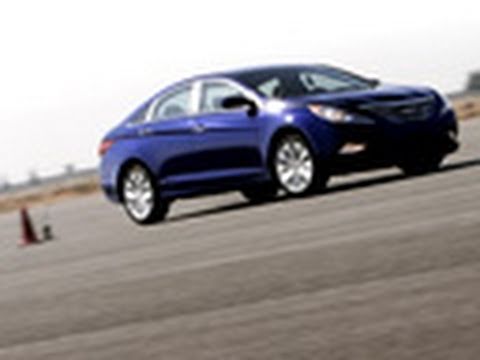 The Powertrain
The Sonata 2.0T engine is very good. It has torque, enough to smoke tires. Yes, there is a traction control off button. Just for those rainy days, right? When the turbo has a chance to (really) spool up around 3,800 RPM, it's very quick. I mean like to 60 in mid-six seconds. The power delivery from 40 to 120 is shocking. Because the car is very smooth and quiet, you don't relize how fast you just accelerated until you hear the wind and look down at the gauges.
Everyday driving is a dream as the engine revs so low for the power. Passing on the highway is as easy as tapping the gas, at 60, 70 or even 80. The dual clutch auto-manual trans is a great combination with this engine. It is smooth, responsive and again quiet in Automatic. And did I mention it gets decent gas mileage. I average 38 miles on the highway when I'm cruising at 65-70. Around town I am near the average of 25. And it runs well on regular gas, but even better on Premium. Try an octane booster as well, turbo will generate the 17.4 pounds of boost to its best efficiency.
Now, understand- I am talking about a 2 litter engine here. Bolt a turbo, give it 17.4 pounds of boost and add direct fuel injection, you get 274 horses with similar torque levels. Honestly, it may be the best in breed of 4 cylinder engines ever made. Except maybe the 2.0 in the Evo, what is better? And it is quiet. In fact, it is to quiet. Please Hyundai make a factory (or endorse) an after market boost blow off valve that does not void the killer warranty.
When in manual I find the engine and trans to be a little sluggish with the turbo engagement. Once you give it a second in manual mode its a rocket like the automatic, but it is noticeably different power delivery. Also, in manual you will hear the turbo lag more, especially when low reeving around town. In auto though, the engine and turbo are bassically seamless.
One downside is that the steering wheel and "feel" of the car is of luxury. Which hey, I love for daily driving. But it would have been great to have a driving mode that returned better feel from the steering wheel. You can literally go left or right on the steering wheel an inch before the car reacts. That is a good thing in traffic and what not, but could be better when going around the corners. If I had to choose, being an enthusiast type of driver, I would prefer they stiffen that part especially for the 2.0T package.
The Looks:
For the money, there is not a better looking car inside and out. The interior is very cool. It has a blue cockpit and a very open design. The gauges are unbelievable, very 3D looking. It has just enough buttons, hidden compartments and just a great layout.
They thought of everything to, like in the center on the roof is a small blue led light that illuminates the cabin in sky blue light. It has hands free Bluetooth with a mic above the driver, voice activated navigation and voice activated radio controls. Honestly, the interior is basically perfect except for the front seats. Cruise control works great. It has an iPod dock and USB located in front for easy access. It even has two 12 volt chargers for a phone and my radar detector.
The steering wheel controls are very good. The steering wheel is okay, I would have preferred they made the entire thing leather but it ain't bad at all. The buttons have a great feel and location though.
The Sonata 2.0T front seats are my biggest issue. They are just not sporty (supportive) enough. The engine, 18 inch tires and sport suspension screams play hard. The problem is the passenger literally slides around and so do you. The seats needs to be more like 2011 Acura TSX. However, on the plus side, I really like that the driver side seat is fully auto, with a back support and lift support. It goes front to back and up and down. Another plus is the combination of leather on the sides and swede in the middle. It is really the best of both.
The back seats are perfect to. Guest say they are comfortable and have plenty of room. A good friend who is 6'2 fit back there without an issue. The trunk is friggin' huge, and the back seats fold down easy to boot. There is more than enough space.
The outside is very good. The 18's are a prefect design for this car. The dual exhausts looks great and runs silent. The fog lights and front lights are perfect. It ain't that annoying white color either that most other luxury cars feature. The paint is superb. Honestly, the 2012 Hyundai Sonata has a wonderful paint factory. Hyundai has bragged about this in their commercials too.
To sum it up:
Its a great car. I like it more every time I see it. The key-less entry and push start are amazing features. I almost never touch my key anymore. I like it more every time I drive it. And I am not shocked every time I get the bill either. So there you have it, go and drive one. But good luck finding the 2.0T Model. I have been driving mine for a month and have not seen another one yet. I have seen plenty of regular 2.4 liter Sonata's though.
There you have it.
Written by Adam Faragalli on 2/25/2012.
HYUNDAI MOTOR AMERICA
Hyundai Motor America, headquartered in Costa Mesa, Calif., is a subsidiary of Hyundai Motor Co. of Korea. Hyundai vehicles are distributed throughout the United States by Hyundai Motor America and are sold and serviced through more than 800 dealerships nationwide. All Hyundai vehicles sold in the U.S. are covered by the
Hyundai Assurance
program, which includes the 5-year/60,000-mile fully transferable new vehicle warranty, Hyundai's 10-year/100,000-mile powertrain warranty, and five years of complimentary Roadside Assistance.
2012 Hyundai Sonata 2.0T Price:
MSRP: $19,695 – $28,095